Reinforcement couplers are used for extending rebars with full tension resistance. The ends of bars to be joined are provided with threads, and the bars are joined using a coupler sleeve that transfers the force on the rebar across the connection.
Reinforcement couplers are used to reinforce the cast-in-situ and element structures of buildings, where the idea is to replace the normal lap joint of the rebar with a coupler that transfers force from the rebar. The coupler is used for strongly reinforced structures where there is no room for lap joints on the bar.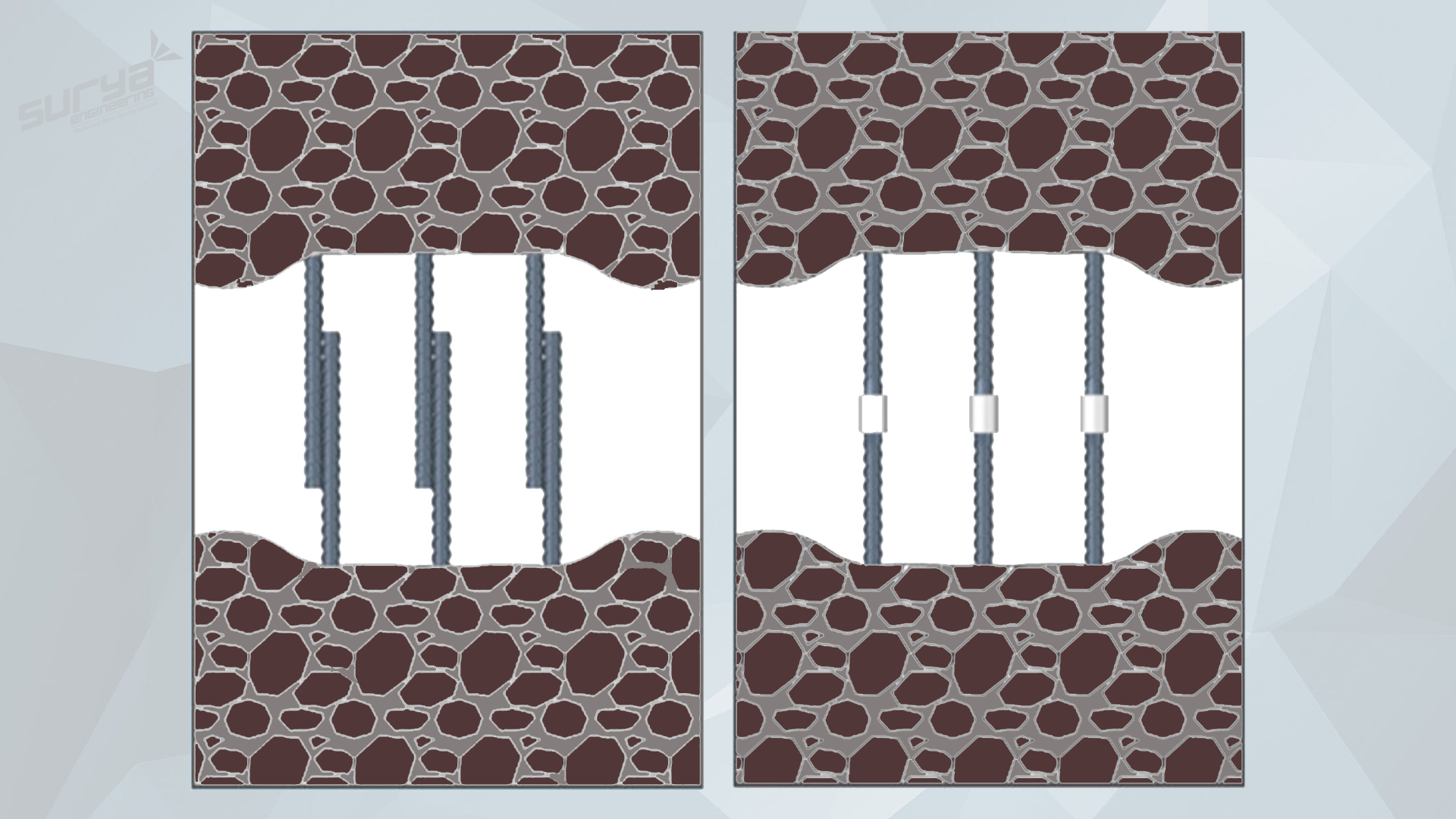 The reinforcement coupler is used as the main reinforcement of heavy-duty elements and cast-in-situ structures as a replacement for a normal lap joint. The coupler has been designed for the tensile resistance of the rebar. A structure designed with traditional reinforcement can be changed to utilize a reinforcement coupler of the same bar size on site. The coupler serves as a replacement solution for lap-jointed main reinforcements of slabs, beams and columns.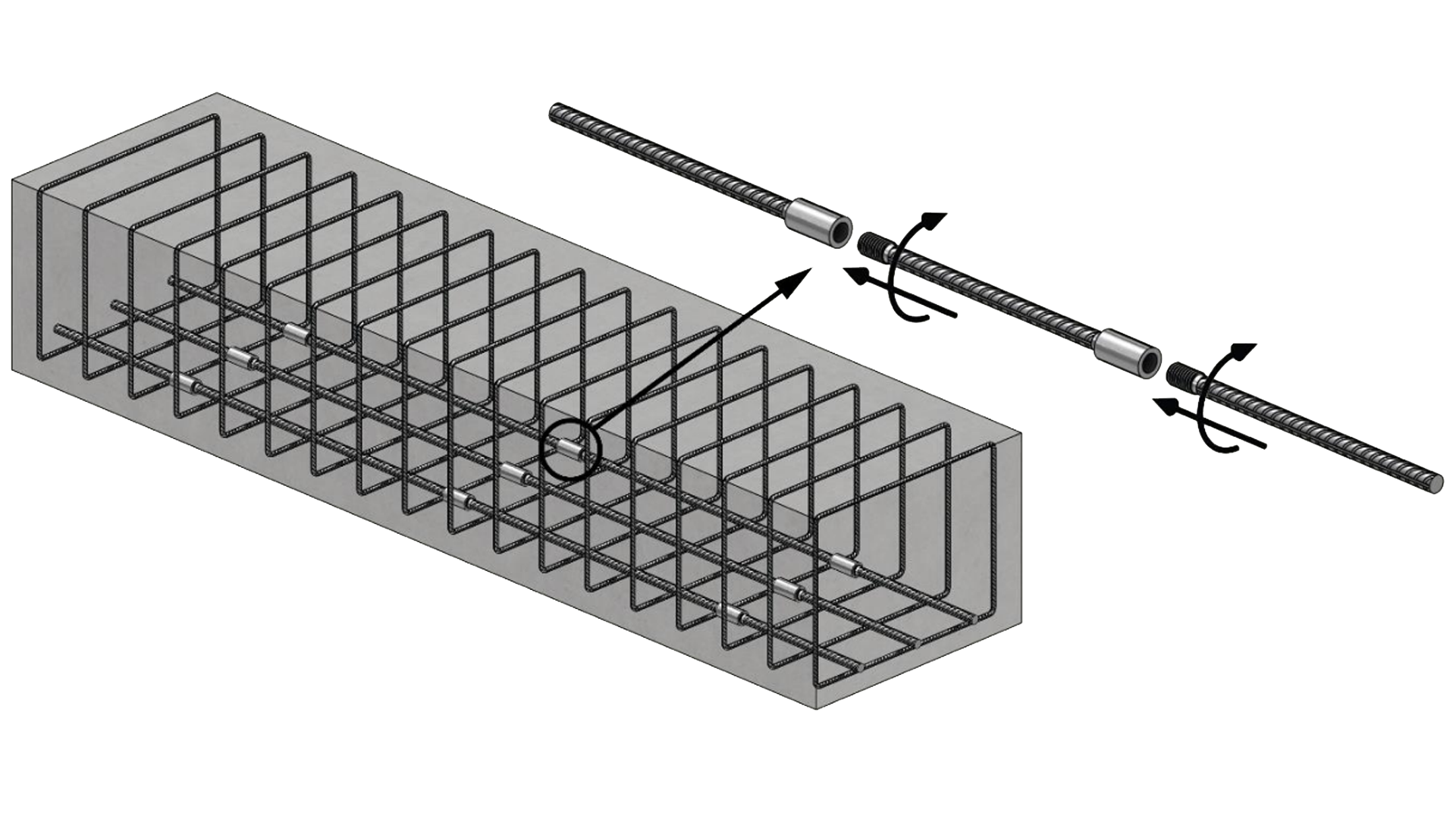 The reinforcement coupler applications are used for construction joints and casting seams of demanding and special structures where no normal spliced bars are led through the construction joint.
Surya Engineering is a Leading Manufacturer of Reinforcement Bar Coupler. Surya Engineering Deals in Mechanical splicing system technology for the construction Industry, Our product offers to connect two TMT bars with this mechanical rebar couplers over the traditional lap splicing method for the bar which is ranging from 12mm to 40mm.
There are different code specification in India for Rebar Coupler which is given below
1. ACI: 318-2008
Type 1: As per this code joint should be required to achieve 1.25Fy as a minimum.
Example :- For Fe500 the tensile strength expected is at least 625 N/mm2.
Type 2: As per this code Joint should be required to meet the 1.25Fy requirement and also meet the Tensile Strength of the rebar.
For Example :- For Fe500 the ultimate stress expected from the same is at least 700 N/mm2.
2. BS 8110-Part 1, Section 3, 1989
In this Code Specification testing of the rebar coupler of a precise type, the permanent elongation after loading to 0.6fy should not exceed 0.1mm.
For Example :- For grade 460 the tensile strength should exceed 497 N/mm2.
3. IS 1786-2008
In this Specification for Fe500 Rebar is considered acceptable for use anywhere in the structure if meets the ultimate strength of 545 N/mm2 which is much lesser than the 1.25Fy.
In this case, the Condition becomes at least 625 N/mm2 as well.
4. IS 16172-2014
Coupler to be designed for Fe550 grade.
The only tests recommended for acceptance on projects are static tensile tests.
Example :- Fe500 rebar breaking at a stress of 580 N/mm2 is acceptable as per IS 1786 requirement of 545 N/mm2.
Below are test report of Rebar Coupler as per IS Code 16172 � 2014 or 1786-2008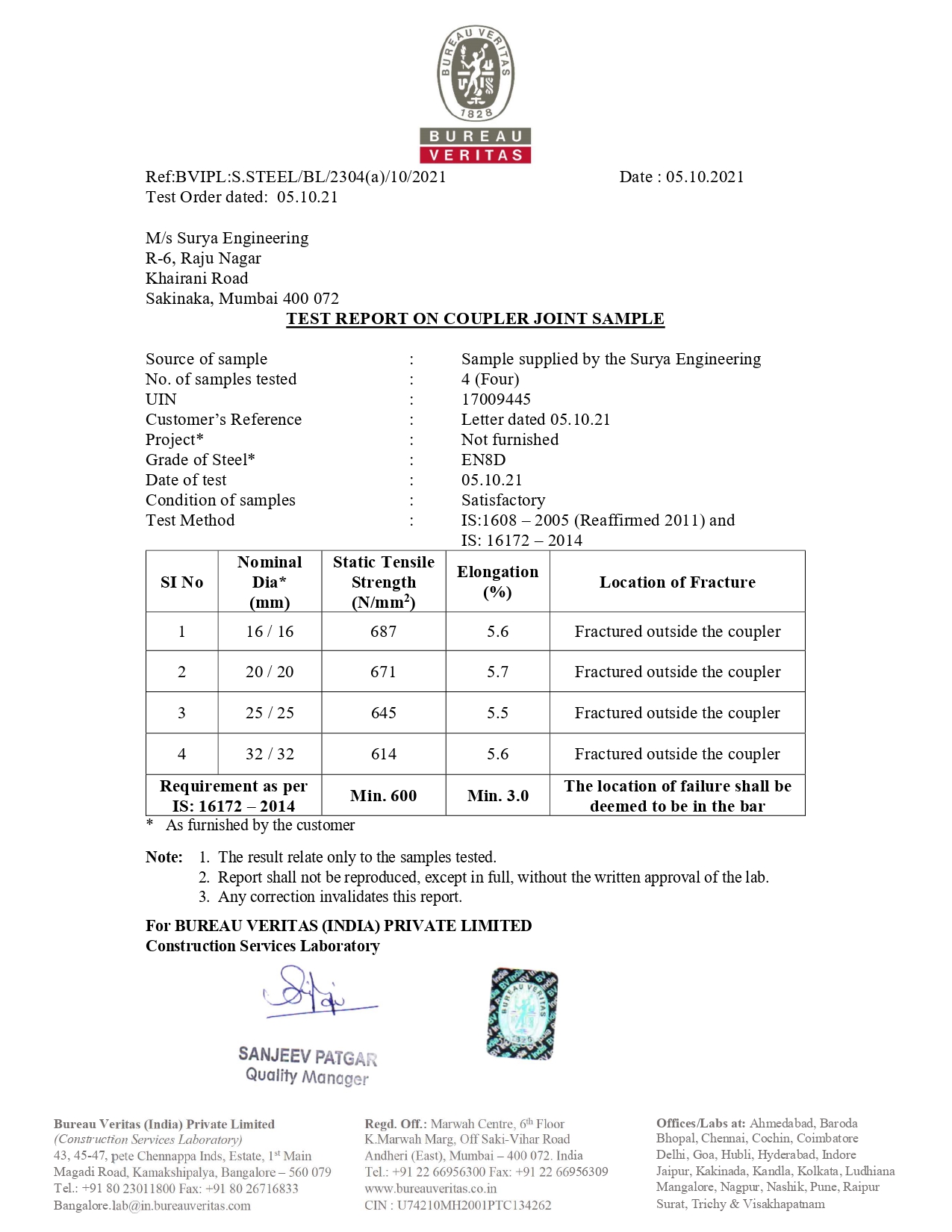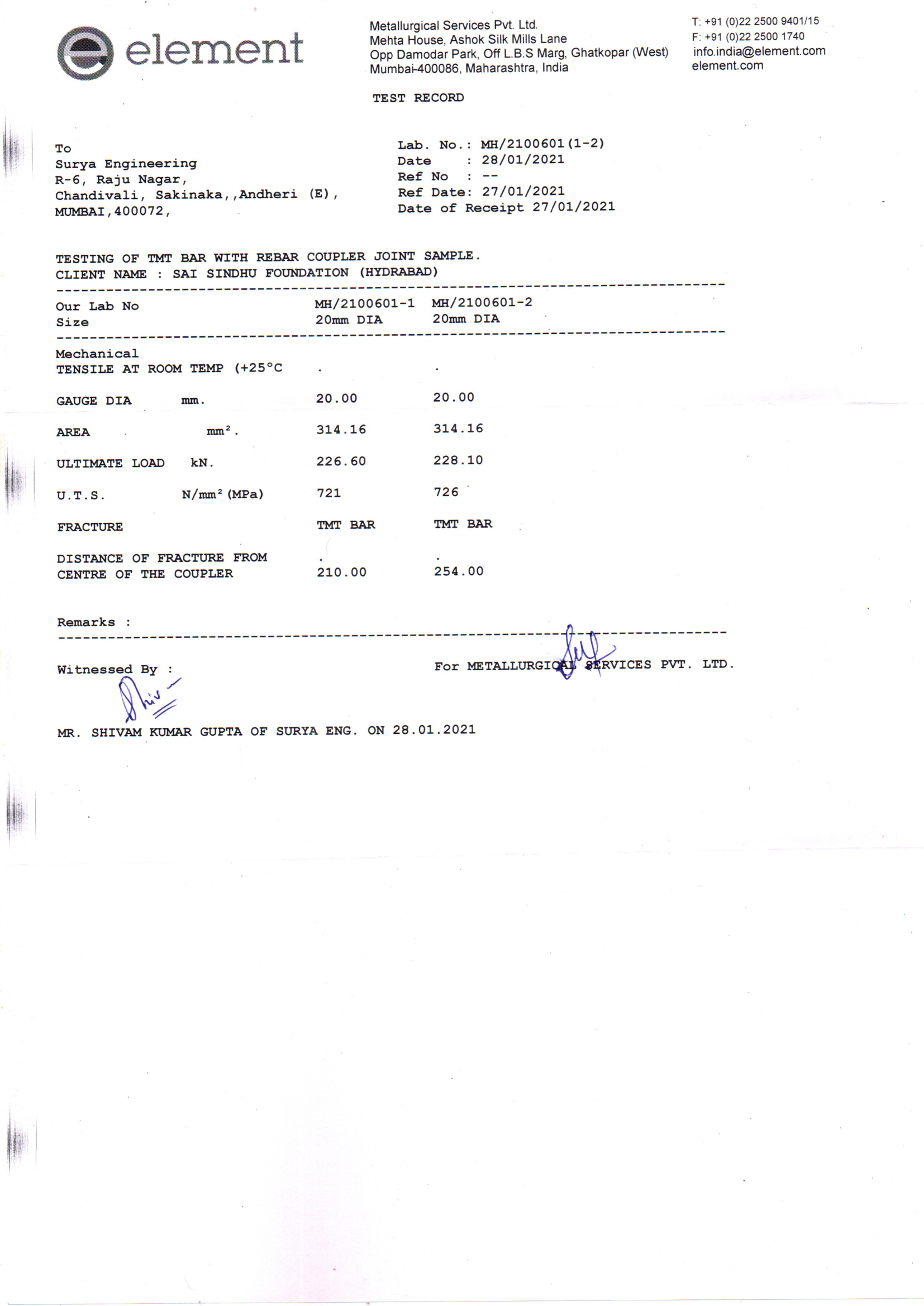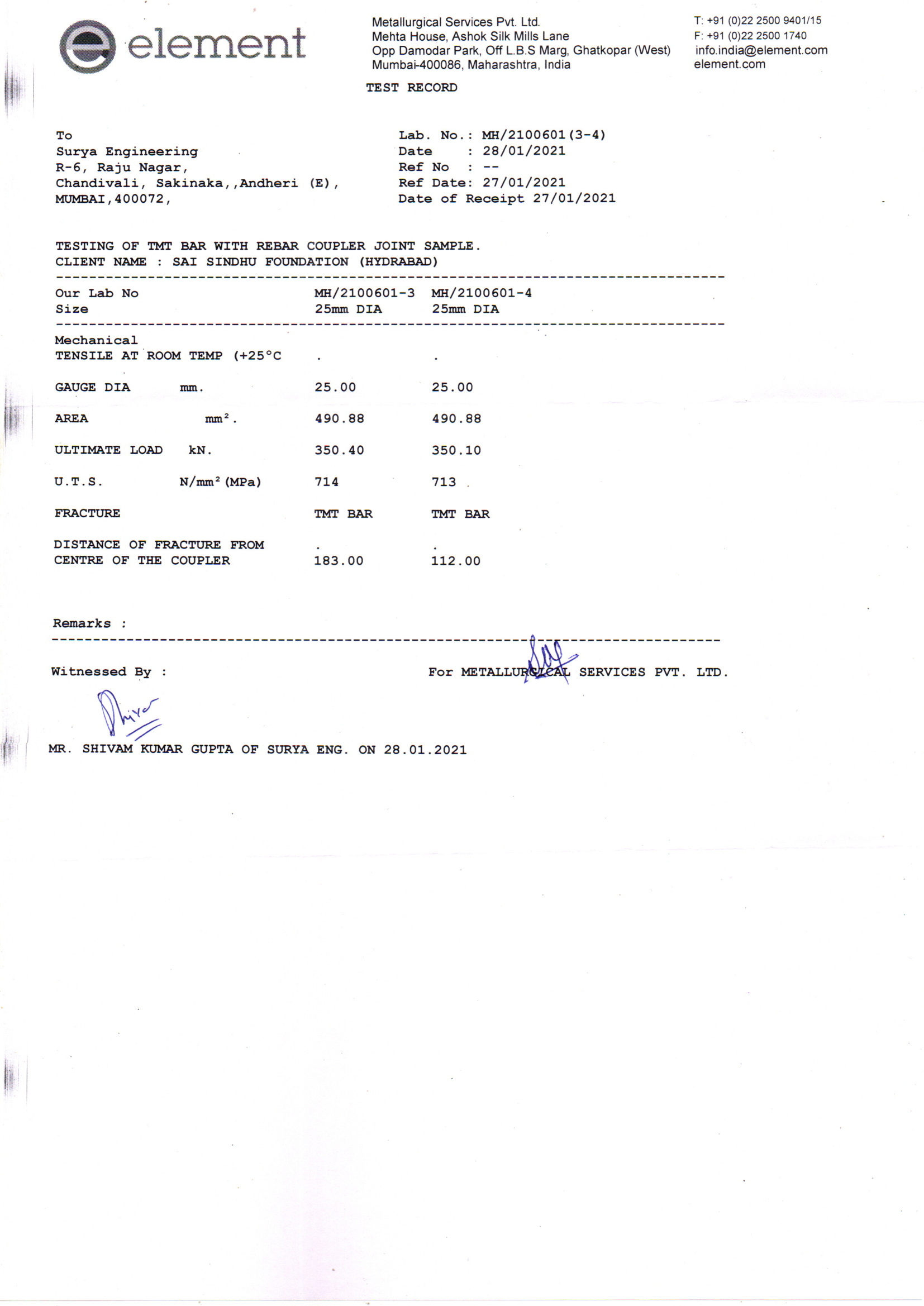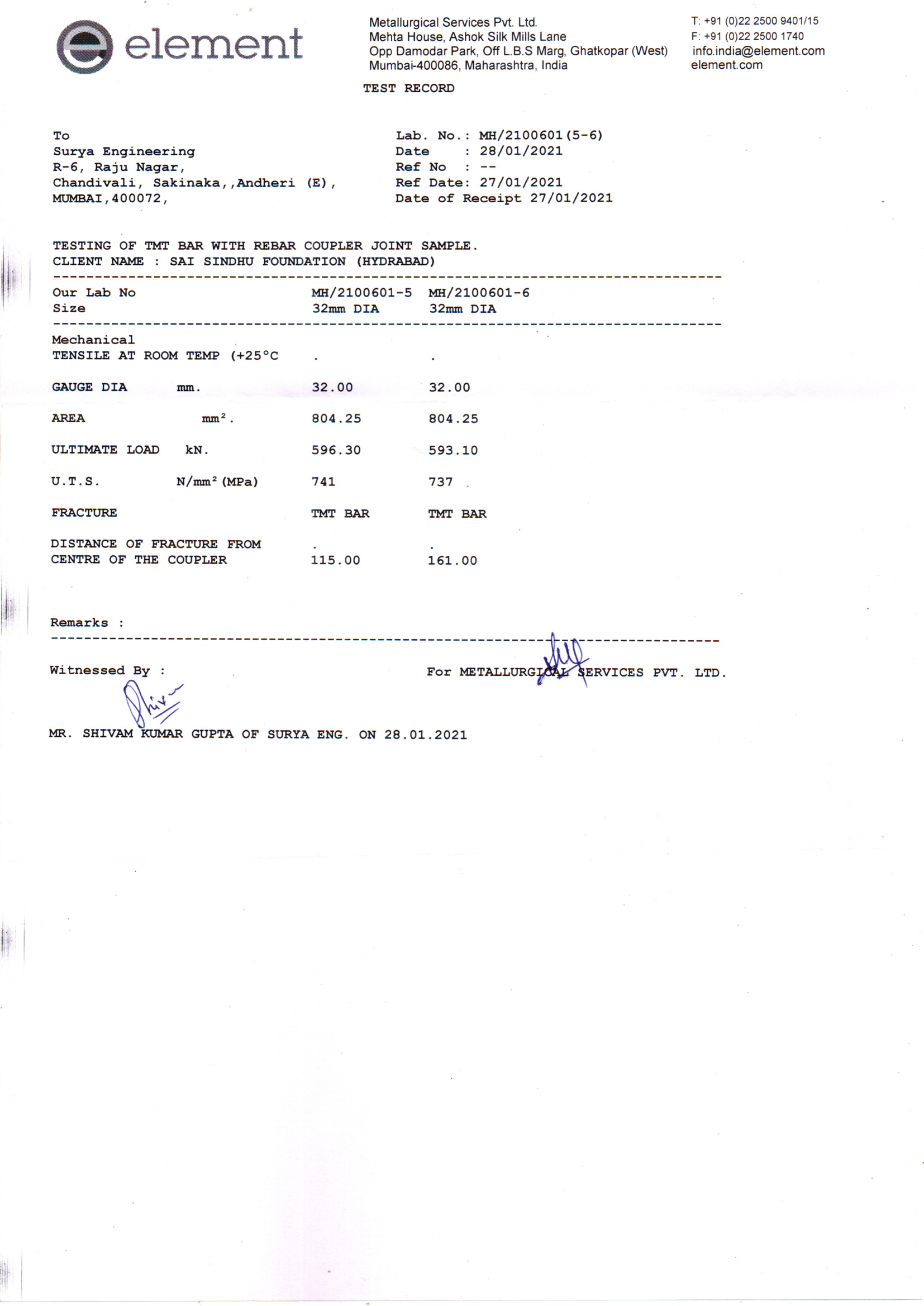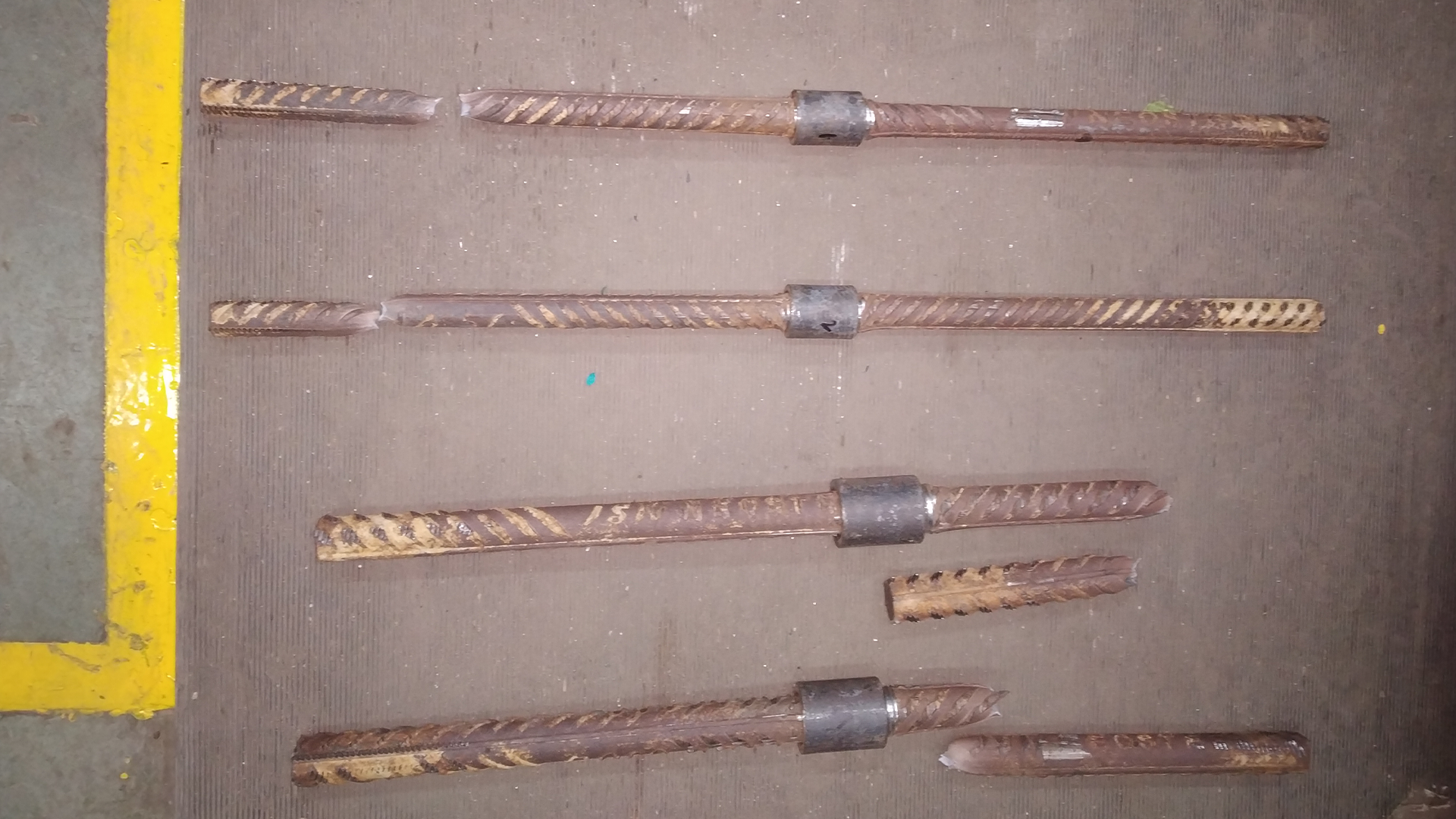 Benefits of Rebar Coupler
1. Reduced rebar congestion in reinforced columns and improved the flow of concrete.

2. Eliminating cavities of honeycomb in concrete element.
3. Insufficient spacing for lap splicing of rebars.
4. Speed in construction of projects and reducing the size of concrete sections and pillars.
5. Connecting precast members with full tension splice.
6. Avoid the use of expensive starter rebar boxes and protect expensive formwork from being damaged by starter bars.
7. Wastage of Steel Reduced, labor cost and accelerating job schedule with easier coupling.
8. More reliable than lap splicing as mechanical splices don't depend on concrete for load transfer.
9. High tensile and compression capacity of reinforced structure maintaining greater structural integrity where design structure demands high tensile load capabilities.
10. Easy to install no torque wrench required hand tightening of the bar or coupler is sufficient.
Material Used
In this Rebar Coupler EN8D Material Is used which gives high Tensile Strength to the reinforcement joint. In EN8D Material Carbon composition is 0.40-0.45.
Rebar Coupler Manufacturer in Mumbai, Hyderabad, Bangalore, Delhi, Guwhati, Pune, Chennai, Vishakhapatnam, Kota, Bhuj, Udaipur, Goa, Indore, Bhopal.